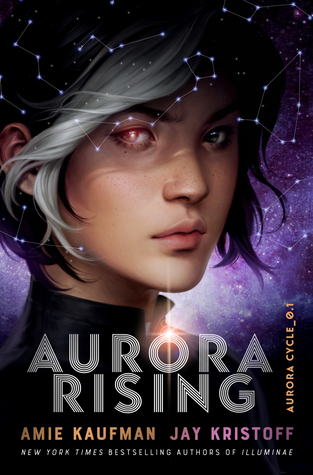 Release Date: May 7, 2019
from Knopf Books For Young Readers


Goodreads

|

Amazon
Source: I received a complementary copy of this book from the publisher via NetGalley and voluntarily provided a fair and honest review.
"From the internationally bestselling authors of THE ILLUMINAE FILES comes an epic new science fiction adventure.





The year is 2380, and the graduating cadets of Aurora Academy are being assigned their first missions. Star pupil Tyler Jones is ready to recruit the squad of his dreams, but his own boneheaded heroism sees him stuck with the dregs nobody else in the Academy would touch…





A cocky diplomat with a black belt in sarcasm




A sociopath scientist with a fondness for shooting her bunkmates




A smart-ass techwiz with the galaxy's biggest chip on his shoulder




An alien warrior with anger management issues




A tomboy pilot who's totally not into him, in case you were wondering





And Ty's squad isn't even his biggest problem—that'd be Aurora Jie-Lin O'Malley, the girl he's just rescued from interdimensional space. Trapped in cryo-sleep for two centuries, Auri is a girl out of time and out of her depth. But she could be the catalyst that starts a war millions of years in the making, and Tyler's squad of losers, discipline-cases and misfits might just be the last hope for the entire galaxy.





They're not the heroes we deserve. They're just the ones we could find. Nobody panic."
My Thoughts:
I have been in a bit of a reading funk these past few months, there just hasn't been much that has really been grabbing me but man oh man did Aurora Rising grab me. It has been so long since I have loved a book this much and it's easily one of my favorite books this year. This book is like Star Trek but with a band of misfits and infinitely more sass. It is everything I could have hoped for and more.
What truly makes this book is the cast of characters. I want to join Squad 312. None of these characters should fit together or were ever meant to be a team but they just work. Tyler is just utterly refreshing as a leader. He wants to follow the rules and isn't this brash reckless leader who can get away with being reckless just because he is great. He works hard and followed the rules all his life. But he is also willing to do what is right but he struggles along the way and I just loved him because he is such a good and smart guy and a great leader. And it is so entirely on brand for me that Kal was the favorite of them all… Kal is essentially our resident badass space elf. Kal is quiet and broody and a jackass a lot of the time so naturally I found him incredibly endearing. In Fin we have our sarcastic asshole mechanic… and I love him. Zila is quiet and ridiculously smart and in love with her disruptor. Scarlet is excellent at reading people and always has a comment and I love the bond between her and Tyler (they are twins and love excellent sibling relationship portrayal). And how could I not love Cat… always ready to speak her mind and be the badass that she is. And then we have our girl Aurora. She is fantastic. She is clearly out of her depth and nothing around her is familiar but she perseveres and fights and really comes into her own.
This book is so hard to put down. There is so much action and drama and the characters all play off one another so well. It is the perfect kind of sci-fi where it has the true sci-fi feel but you are never bogged down by details and information that slow down the plot. The plot keeps moving and dropping more and more information as you go along. I loved all the twists and turns as the story moved along and I cannot wait to see where the series goes next.
All in all, Aurora Rising was a fantastic read and it was exactly the book I needed right now. I can't even fully express how much I loved this book and I want everyone to read it.