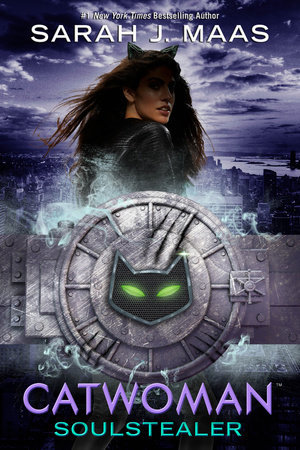 Release Date: August 7, 2018
from Random House Books For Young Readers


Goodreads

|

Amazon
"When the Bat's away, the Cat will play. It's time to see how many lives this cat really has....





Two years after escaping Gotham City's slums, Selina Kyle returns as the mysterious and wealthy Holly Vanderhees. She quickly discovers that with Batman off on a vital mission, Batwing is left to hold back the tide of notorious criminals. Gotham City is ripe for the taking.





Meanwhile, Luke Fox wants to prove he has what it takes to help people in his role as Batwing. He targets a new thief on the prowl who seems cleverer than most. She has teamed up with Poison Ivy and Harley Quinn, and together they are wreaking havoc. This Catwoman may be Batwing's undoing."
My Thoughts:
This was such a fun ride and I did not expect it to pack the punch it did. I am a big Sarah J. Maas fan and I was so looking forward to Catwoman to see a different side of her writing and I was not disappointed. She delivered an action packed anti-heroine story with a ton of heart and some romance to boot.
I absolutely LOVED Selina. She is so fierce and strong and smart and tough and she also has so much heart. At the base of it all her heart is what drives her. She is so easy to root for, even as she is robbing people left and right and causing general chaos. She is simply likable and at her core she's a good person who just does bad things sometimes.
And then we had Ivy, who in a lot of ways stole the show. I truly loved her and loved the friendship that formed between Ivy and Selina. Forever a fan of strong and positive female friendships. Loved Harley too, she's such a loose cannon and brought so much fun and crazy to the story. And of course I have to mention Luke, aka Batwing. Adored him as well. He is such a good guy and just wants to do right and do something meaningful. And of course I loved Selina and Luke together. It was fun watching them dance around one another and seeing how both sides of their personalities intertwined.
I feel like I need to mention though that I am not a comic book reader, it's just not a medium I ever got into. But I love superheroes and villains as characters and I adore the genre when it comes to movies and other mediums. I mention this because if you are looking for a strict canon Catwoman, this probably isn't the book for you. This is a new take on Catwoman, and I personally love her, but I recognize that those who are very attached to their version of Catwoman may not love this version. Personally I think the world has enough room for multiple versions and takes on classic characters, but I also get why some people don't like to see their favorites messed with.
Catwoman: Soulstealer was an action packed fun read from beginning to end. It had a great cast of characters and packed a real emotional punch. I just seriously loved this one.