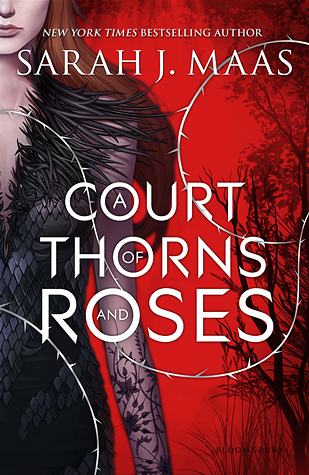 Release Date: May 5, 2015
from Bloomsbury USA Children's


Goodreads

|

Amazon
"A thrilling, seductive new series from New York Times bestselling author Sarah J. Maas, blending

Beauty and the Beast with faerie lore.





When nineteen-year-old huntress Feyre kills a wolf in the woods, a beast-like creature arrives to demand retribution for it. Dragged to a treacherous magical land she only knows about from legends, Feyre discovers that her captor is not an animal, but Tamlin—one of the lethal, immortal faeries who once ruled their world.





As she dwells on his estate, her feelings for Tamlin transform from icy hostility into a fiery passion that burns through every lie and warning she's been told about the beautiful, dangerous world of the Fae. But an ancient, wicked shadow grows over the faerie lands, and Feyre must find a way to stop it . . . or doom Tamlin—and his world—forever.





Perfect for fans of Kristin Cashore and George R. R. Martin, this first book in a sexy and action-packed new series is impossible to put down!"
My Thoughts:
1.

So excited for my yearly re-read! I love picking up on new things each time.
2.

Also there will be SPOILERS for the series cause the book has been out for years now and cause I'm gonna have thoughts about things.
3.

There is forever going to be a part of me that resents Elaine and Nesta for what they let Feyre go through alone. They were the older sisters and did NOTHING. Seriously, what would they have done without Feyre? This is my biggest issue with Nesta; she never appreciates what Feyre did.
4.

The night sky painted on her dresser. Glorious foreshadowing.
5.

Forever wondering if this mercenary is going to show up again.
6.

Feyre is steel and I love her for it.
7.

It's small, but I love that the guys take the contraceptive because it's about time.
8.

And there he is. The giant tool.
9.

You know… I wonder would Tamlin have killed Feyre had she declined to go with him? I mean those were the only two options he gave.
10.

Her family does nothing to stop Tamlin and it's ridiculous.
11.

Also her father telling her to make something of herself is fantastic foreshadowing.
12.

Oh man, the "lamb in a kingdom of wolves" line here parallels so well with the line at the end of ACOMAF.
13.

Lucian is such a bastard… I know he grows over time… but again another one I will forever hold a small bit of anger towards.
14.

Tamlin… such a smooth talker *rolls eyes*
15.

It really was low of Tamlin to hold her family against her.
16.

*sigh* Tamlin does try to be nice but he's not so good at it.
17.

"If not a Lord than a High Lady, if that was even possible" OH THE FORESHADOWING.
18.

Feyre always belonged in the Night Court. Whenever she's nervous she thinks of a night sky.
19.

Yes we know Tamlin has "moods".
20.

YAY THE SURIEL.
21.

STAY WITH THE HIGH LORD.
22.

Starlight again. Always drawn to starlight.
23.

OMG again with the foreshadowing. Feyre's need to learn to swim at a young age literally saves her life.
24.

Okay fine the poem thing was funny and sweet.
25.

What a stupid liar. Acting like his family was killed for no reason whatsoever.
26.

Tugging! It's so Rhysand that drew her out on Fire Night.
27.

There he is! My sexy charming High Lord of the Night Court.
28.

In hindsight, it's very telling that even when Feyre loved Tamlin she still fears him in some way and is intimidated by him.
29.

"Don't ever disobey me again" yeah the signs were ALL here.
30.

UGHHHHHHH IT'S SO GROSS THAT TAMLIN BLAMES FEYRE FOR HIS BEHAVIOR BECAUSE SHE LEFT HER ROOM.
31.

It's always so crazy going back and seeing how unsure Feyre was when we first met her. She grew so much.
32.

You hold your tongue! Such blasphemy against my Night Court.
33.

Feyre on faerie wine is fantastic.
34.

I will never get over how good at acting Rhysand was. He played the game so well.
35.

"I don't enforce rank in my court" oh you so funny and such a liar Tam.
36.

Chapter 27 – you know the first time I read this chapter I was like "dayummmm Sarah so risky" and then I read ACOMAF…
37.

Also such difference in what Tamlin thinks Feyre can handle vs what Rhys thinks she can handle.
38.

I did always love Alis and when it came down to it she did the right thing.
39.

Gods. Can we just imagine how different things would have been had Feyre just said "I love you" right here.
40.

I do give Nesta credit for trying to get to Feyre and being so smart… but she is still so terrible in some ways.
41.

Nesta is steel but I really just can't forgive her for all those years.
42.

Yes. There are no limits to what Nesta can do which is why I need her to remove her head from her ass.
43.

Oh how dare you Feyre. This is all your fault for not saying I love you to Tamlin. I mean Amarantha isn't to blame at all. *insert sarcasm*
44.

Under the mountain we go.
45.

Amarantha is a psycho bitch.
46.

Seriously such a psycho.
47.

Rhysand forever protecting Feyre.
48.

"Rhysand tells me you're a huntress." Yes. Yes she is and he knew she could handle this.
49.

"I fell in love with you, smartass, because you were one of us—because you weren't afraid of me, and you decided to end your spectacular victory by throwing that piece of bone at Amarantha like a javelin. I felt Cassian's spirit beside me in that moment, and could have sworn I heard him say, 'If you don't marry her, you stupid prick, I will." All I could hear was this ACOMAF quote as I read this scene.
50.

And look who is here to save Feyre again… Rhys… and Tamlin nowhere to be found.
51.

Feyre darling *swooooons*
52.

He showed her his wings!
53.

She really did always speak her mind around Rhys.
54.

Lucian. Always a prick. He can't help it.
55.

Seriously. Rhys is the only thing that got her through these trials.
56.

He sent her Velaris and it saved her!
57.

Tamlin had the chance to get her out and he didn't. Because Tamlin does not put Feyre first, not truly.
58.

My High Lord of the Night Court is so broken. That scene in Feyre's cell breaks me.
59.

And this is the moment that changes everything. The moment that truly breaks Feyre nearly beyond repair.
60.

So cruel. Such a cruel twist from Amarantha.
61.

GET UP TAMLIN. SHE IS KILLING HER AND YOU'RE DOING NOTHING.
62.

Rhysand is the only one who even reacts!
63.

Rhysand is the one who tries to kill Amarantha even without his powers.
64.

AND TAMLIN IS STILL LYING ON THE FLOOR.
65.

IDK how so many of us completely missed Rhysand's visceral reaction.
66.

And once again… Rhysand is the only reason she even survives, because of their bond.
67.

And then after everything Rhys did, all the maneuvering, Tamlin gets credit.
68.

Ugh and I almost forgot it's Rhys that gets the other High Lords to save Feyre.
69.

TUGGING
70.

AND THERE IT IS… the bond... SNAP
Wrap Up
Reading this book after finishing the series is such a stark contrast. Everything looks so different now that everything has come to light and I really think that's brilliant. Sarah hid so much in plain sight. This book is really like on giant prologue in how it sets up events to come. The layers are forever one of my favorite things about this series.