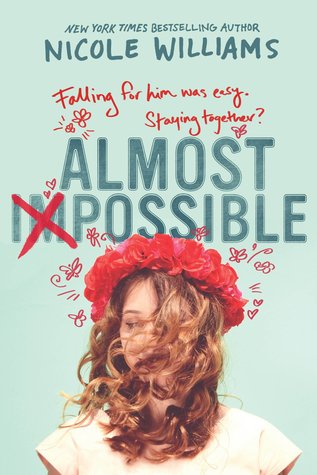 Release Date: June 19, 2018
from Crown Books For Young Readers


Goodreads

|

Amazon
Source: I received a copy of this book from the publisher and voluntarily provided a fair and honest review.
"Fans of Sarah Dessen, Stephanie Perkins, and Jenny Han will delight as the fireworks spark and the

secrets fly in this delicious summer romance from a New York Times and USA Today bestselling author.





When Jade decided to spend the summer with her aunt in California, she thought she knew what she was getting into. But nothing could have prepared her for Quentin. Jade hasn't been in suburbia long and even she knows her annoying (and annoyingly cute) next-door neighbor spells T-R-O-U-B-L-E.





And when Quentin learns Jade plans to spend her first American summer hiding out reading books, he refuses to be ignored. Sneaking out, staying up, and even a midnight swim, Quentin is determined to give Jade days--and nights--worth remembering.





But despite their storybook-perfect romance, every time Jade moves closer, Quentin pulls away. And when rumors of a jilted ex-girlfriend come to light, Jade knows Quentin is hiding a secret--and she's determined to find out what it is."
My Thoughts:
YA Contemporary normally isn't my thing, but Nicole Williams is an exception to that rule because she is one of my favorites and I adore everything she writes. So of course I thoroughly enjoyed Almost Impossible. It was such a quick read and it was so much fun and it was oh so adorable.
Quentin and Jade were both such great characters. I especially liked Jade and found her to be incredibly likable. She has lived a very different life and finally wants to experience some teenage normalcy. This leads her to a summer spent with her Aunt and Uncle and to Quentin. Quentin is so damn adorable and charming and I cannot. These two together just make you smile. They have great chemistry and great back and forth and they are super cute together. I really liked how sweet this was and that it was never over the top angst. I mean they are teenagers and there is drama, but it's never unbelievable or too much.
I do admit that I figured out the twist very early on, but I found I didn't even care. I really just enjoyed being along for the ride and watching Jade experience her first real teenage summer. Jade learns a lot about herself over the summer and really comes into her own. Her and Quentin just made me smile so much.
Almost Impossible was another wonderful read from Nicole Williams and she never ever lets me down. The adorableness level was off the charts here and this is the kind of book I know I'll pick up again when I need a pick me up.