From New York Times bestselling author Samantha Young comes a story of friendship, identity, and acceptance that will break your heart—and make it whole again. Grab your copy of THE IMPOSSIBLE VASTNESS OF US today!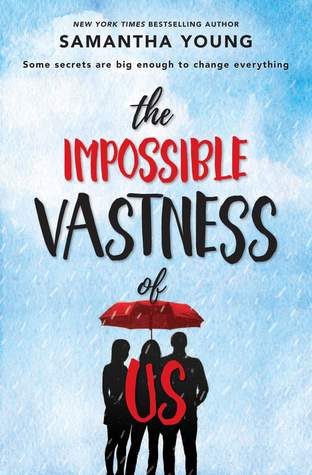 "I know how to watch my back. I'm the only one that ever has."




India Maxwell hasn't just moved across the country—she's plummeted to the bottom rung of the social ladder. It's taken years to cover the mess of her home life with a veneer of popularity. Now she's living in one of Boston's wealthiest neighborhoods with her mom's fiancé and his daughter, Eloise. Thanks to her soon-to-be stepsister's clique of friends, including Eloise's gorgeous, arrogant boyfriend Finn, India feels like the one thing she hoped never to be seen as again: trash.




But India's not alone in struggling to control the secrets of her past. Eloise and Finn, the school's golden couple, aren't all they seem to be. In fact, everyone's life is infinitely more complex than it first appears. And as India grows closer to Finn and befriends Eloise, threatening the facades that hold them together, what's left are truths that are brutal, beautiful, and big enough to change them forever…






Character Interview With Eloise:
Hi Eloise! Thanks so much for stopping by Readers Live A Thousand Lives! It is a pleasure to have you here.
I like to kick off all my interviews this way, so if you had to choose two words to describe yourself what would they be and why?
Eloise: Hi, I'm happy to be here. Thank you so much for having me.
As for the two words I'd use to describe myself… loyal and misunderstood. I've been friends with the same people since we were in diapers, and those friendships are the most important thing in my life. I'd do anything to protect the people closest to me. Why would I say misunderstood? I think people have certain expectations about me. They see me as just another smart, rich, popular white girl. And I am all those things. However, I'm also more than those things. Thankfully, and sometimes not so thankfully, most people don't take the time to look any deeper.
And if you have to use two words to describe Finn and India?
Eloise: Loyal and misunderstood :) I'd guess you'd say that's why we're friends.
If you could have one day to do anything you wanted, no limitations, what would you do and would you want anyone with you? If so, who?
Eloise: To spend the day as I normally would – at school, with my friends, rehearsing for the school play, hanging out after school. But I'd love to do all those things not as Eloise Fairweather. Not the girl everyone thinks they know. I want to do all those things as the real me— no secrets, no deceptions, just me as I am. The version of me that feels free.
If you could have dinner with one famous person (alive or deceased) who would you want it to be?
Eloise:
Either Gertrude Belle Elion or Lauren Bacall. Gertrude was a biochemist who won the Nobel Prize in 1988. She developed the first major drug used to fight Leukemia as well as the first anti-rejection drug for organ transplant patients. Lauren Bacall was my favorite actress. She had everything – intelligence, class, and a presence on screen you just can't replicate.
What were your first impressions of India? What made you change your mind about her?
Eloise:
India was very hard to read when we first met which is exactly why I thought she could be dangerous. I didn't need someone I didn't trust becoming such a massive part of my personal life. I won't lie – I did not want her around. However, she has a strength of character I just couldn't ignore. But my mind wasn't fully changed until she discovered the truth. It was her reaction in the days after that made me trust her. India has proven to me that she is kind and understanding. She's a good person.
Knowing what you know now, if you could go back and do it all over again is there anything you would do differently?
Eloise:
I definitely would have tried harder to make India's life a little easier when she first moved here. Finn's too.
This or that:
Red Vines or Twizzlers?
Red Vines
Thanks so much for stopping by Eloise! It was great having you here.
Eloise:
Thanks again for having me. It's been a lot of fun


a Rafflecopter giveaway
Samantha Young is the New York Times, USA Today and Wall Street Journal bestselling author of

adult contemporary romances, including the On Dublin Street series and Hero, as well as the New Adult duology Into the Deep and Out of the Shallows. Every Little Thing, the second book in her new Hart's Boardwalk series, will be published by Berkley in March 2017. Before turning to contemporary fiction, she wrote several young adult paranormal and fantasy series, including the amazon bestselling Tale of Lunarmorte trilogy. Samantha's debut YA contemporary novel The Impossible Vastness of Us will be published by Harlequin TEEN in ebook & hardback June 2017
Samantha has been nominated for the Goodreads Choice Award 2012 for Best Author and Best Romance for On Dublin Street, Best Romance 2014 for Before Jamaica Lane, and Best Romance 2015 for Hero. On Dublin Street, a #1 bestseller in Germany, was the Bronze Award Winner in the LeserPreis German Readers Choice Awards for Best Romance 2013, Before Jamaica Lane the Gold Medal Winner for the LeserPreis German Readers Choice Awards for Best Romance 2014 and Echoes of Scotland Street the Bronze Medal Winner for the LeserPreis German Readers Choice Awards for Best Romance 2015.
Samantha is currently published in 30 countries and is a #1 international bestselling author.
Website | Facebook | Twitter | Instagram | Goodreads