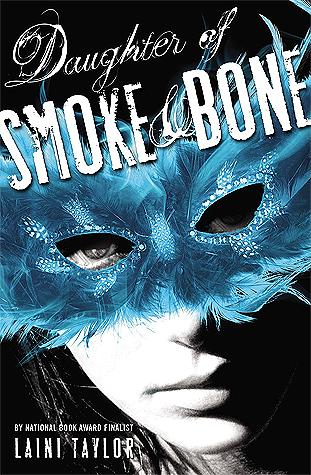 Release Date: September 27, 2011
from Little Brown Books for Young Readers


Goodreads

|

Amazon
"Around the world, black hand prints are appearing on doorways, scorched there by winged strangers who have crept through a slit in the sky.





In a dark and dusty shop, a devil's supply of human teeth grows dangerously low.





And in the tangled lanes of Prague, a young art student is about to be caught up in a brutal otherworldly war.





Meet Karou. She fills her sketchbooks with monsters that may or may not be real, she's prone to disappearing on mysterious "errands", she speaks many languages - not all of them human - and her bright blue hair actually grows out of her head that color. Who is she? That is the question that haunts her, and she's about to find out.





When beautiful, haunted Akiva fixes fiery eyes on her in an alley in Marrakesh, the result is blood and starlight, secrets unveiled, and a star-crossed love whose roots drink deep of a violent past. But will Karou live to regret learning the truth about herself?"
My Thoughts:
This is one of those books that has come highly recommended and has been on my TBR for years. One person in particular has been dying for me to read this one (*side eyes my Wifey*). And now is the point when I admit that I have been an idiot putting this book off for so long. My gosh this book was amazing. So so agonizingly wonderful.
Karou is a wonderful heroine. She is smart and funny and so so witty. I adored everything about her. And I also loved Akiva. My poor broken and beaten down Akiva. These two. They make my heart hurt so damn much. I can't get over how much I love them.
Daughter Of Smoke And Bone is a wonderful story and the writing is some of my favorite of all time. It's so lyrical and gorgeous and Laini Taylor truly brings this world to life so vividly. It is so easy to get lost in the beautiful prose. At times this book is such a slow burn, but it is the very best kind of slow burn. This book took me by surprise on many occasions. The book did not go how I expected it to at all. It was better. The ending to this book absolutely crushed me. My mouth was left hanging open at the end.
I think my favorite thing about this book though is that there really is no good side. There are characters I like and characters I hate, but they both come from both sides of the war. I think there is something so important about this. This ages long war is not necessarily a war of good vs evil. It's a war plain and simple with both sides doing terrible and horrible things. And that war forces good people to do terrible things.
Daughter Of Smoke And Bone was a fantastic read. It's the kind of book that is so achingly good. That leaves your stomach in knots and dreading the outcome but still dying to have your answers. I'll be needing Days Of Blood And Starlight ASAP.