Welcome to day three of the Top Ten of 2016 hosted by Two Chicks on Books, Fiktshun, Tales of the Ravenous Reader, and Dark Faerie Tales. Today we are sharing our favorite couples of 2016 (from books I read in 2016). Like I have done the past few years, I have decided not to feature an author more than once (or at least try really hard not to). Also, there is no particular order to the list.
Rowan & Aelin (Empire Of Storms by: Sarah J. Maas)

- I absolutely adore Rowan and Aelin and I love their dynamic together. This series owns me and I will forever love these two.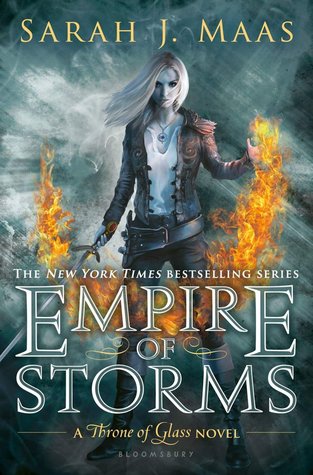 Trevor & Isabel (Midnight Games by: Elle Kennedy)

- I am obsessed with this series, but one of the stand out couples is Trevor and Isabel. Their banter is awesome and their chemistry is insane!
Rhysand & Feyre (A Court Of Mist And Fury by: Sarah J. Maas)

- I'm breaking my one book per author rule because I have to include Rhys and Feyre too. I love them together so so much and I love how they helped one another. I will also forever love how Rhys puts so much faith in Feyre and knows she is strong.
Ren & Ivy (Torn by: Jennifer L. Armentrout)

- I adore Ren and Ivy. I love all of JLA's couples but there is something about Ren and Ivy that I just absolutely adore. They work well together and I love the sacrifices they make for one another.
Noah & Mara (The Evolution Of Mara Dyer by: Michelle Hodkin)

- Noah and Mara are the best together because they give absolutely no f*cks. Noah loves Mara for all her faults and I love how not perfect they both are but that they are perfect together.
Lena & Nate (The Empty Jar by: M. Leighton)

- These two absolutely shatter my heart and I love them all the more because of it. Their romance is so beautiful and I'll never forget these two.
Greta & Isaac (Greta And The Lost Army by: Chloe Jacobs)

- I will forever love Greta and Isaac. They are such a power couple and I love how they continually fight for one another.
Vlad & Leila (Bound By Flames by: Jeaniene Frost)

- Vlad and Leila are so awesome and AHHHHH. Their chemistry is insane and their romance is ridic hot.
Jesse & Rowen (Heart & Soul by: Nicole Williams)

- Jesse and Rowen are forever one of my all time favorite couples, so of course I had to include them on this list.
Jack & Jenna (Right Kind Of Wrong by: Chelsea Fine)

- These two had crazy chemistry and I loved them. I also adored their banter and just everything about them.