Welcome to day one of the Top Ten of 2016 hosted by Two Chicks on Books, Fiktshun, Tales of the Ravenous Reader, and Dark Faerie Tales. Today we are sharing our favorite books of 2016 (from books I read in 2016). Like I have done the past few years, I have decided not to feature an author more than once (or at least try really hard not to). Also, there is no particular order to the list.
Empire Of Storms by: Sarah J. Maas

- I absolutely loved this book. This series owns me and this book was no exception. I've already read it twice and I know I'll read it again and again. The ending killed me and waiting for that final book is going to kill me.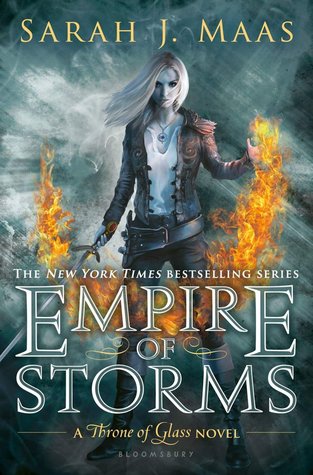 A Court Of Mist And Fury by: Sarah J. Maas

- You'll notice a theme this week, in that these two books show up a lot and I completely ignored my only feature an author once rule but it's because these are my top two reads of the year so I need to feature them both. This book was so incredible and I've read this twice since it released. I'm just obsessed with this series.
Midnight Games by: Elle Kennedy

- A few years ago I dove into this series in the middle with Midnight Captive and I became obsessed. So this year I finally circled back and re-read the books I had originally skipped and I devoured them. This was my favorite of the ones I read and probably only second to Midnight Captive for the series. I adored Trevor and Isabel so much.
The Empty Jar by: M. Leighton

- I love all of Michelle's books, but this one is special. It is clear she poured her heart and soul into this book and I sobbed my way through this book and loved every second. This is her best book to date and I will never forget this one.
Torn by: Jennifer L. Armentrout

- I absolutely love this series from JLA! This book had me glued to the pages and reading non stop. I love Ren and Ivy and Tink is the actual best!
Collared by: Nicole Williams

- This book gutted me in the best way possible. I'm a big Nicole Williams fan but this is by far my favorite book from her EVER!
Outlander by: Diana Gabaldon

- I finally picked this one up this year and I loved it! I finally understand why everyone is obsessed.
Bright Smoke, Cold Fire by: Rosamund Hodge

- Romeo & Juliet, magic, and zombies... this book was made for me. I devoured this book and absolutely loved this world and the characters.
Greta And The Lost Army by: Chloe Jacobs

- This is such an under-rated series and I wish it got more attention. I love this series and this was a wonderful conclusion!
The Power by: Jennifer L. Armentrout

- I had a few JLA books that I loved this year so I figured it was fair to pick two. The Power was awesome and I have come to love Seth and seeing Aiden and Alex again was wonderful.