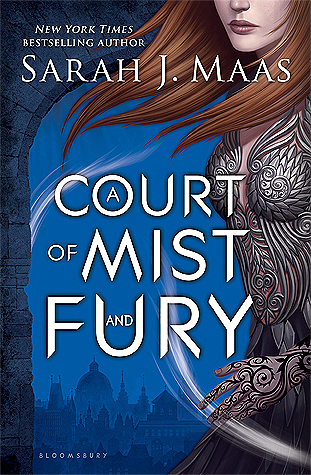 Release Date: May 3, 2016
from Bloomsbury USA Children's


Goodreads

|

Amazon
"Feyre survived Amarantha's clutches to return to the Spring Court—but at a steep cost. Though she now has the powers of the High Fae, her heart remains human, and it can't forget the terrible deeds she performed to save Tamlin's people.





Nor has Feyre forgotten her bargain with Rhysand, High Lord of the feared Night Court. As Feyre navigates its dark web of politics, passion, and dazzling power, a greater evil looms—and she might be key to stopping it. But only if she can harness her harrowing gifts, heal her fractured soul, and decide how she wishes to shape her future—and the future of a world cleaved in two.





With more than a million copies sold of her beloved Throne of Glass series, Sarah J. Maas's masterful storytelling brings this second book in her seductive and action-packed series to new heights."
My Thoughts:
First, there will be spoilers for A Court Of Thorns And Roses because it is impossible to review this book without discussing book one. Second, I have a lot I want to say about this book that could be considered a spoiler so I am going to have a spoiler paragraph. There will be giant markings where it begins and ends so you can skip it is you would rather not be spoiled. And now for the review.
A Court Of Mist And Fury is my favorite book of 2016 to date and we all know the only other book that has the potential to knock this off the top spot is Empire Of Storms. Sarah J. Maas can do no wrong when it comes to me. I enjoy high fantasy as a rule, but whenever I read one of her books I just see that she knocks all those other high fantasy books out of the water. There is nobody who can weave words the way she does.
I absolutely adore Feyre. Her strength and perseverance is something to be admired. My heart broke watching her adjust to this new life as a high fae and I wanted her to see how great she was. Nobody writes strong heroines like SJM and Feyre is a great one. I genuinely like her and I love her strength and everything about her.
Sarah has created a stunning world and I absolutely loved seeing new parts of it. The Night Court is stunning and intriguing and dangerous and I want to visit in the worst way. The world is so intricate and large and it's amazing how she was able to craft such a vivid world. I felt like I was there and I was fully immersed in the story. This book is huge but when I got to the end all I wanted was more. I never wanted the book to end. But oh that ending!!! I was speechless at that ending.
**spoilers**
Alright now it's time to talk spoilers. Here is where I'm probably going to go on and on about both Tamlin and Rhys for different reasons. Tamlin… the mask is off (literally) and we can finally see what was hiding behind it. The little glimpses we saw in A Court Of Thorns And Roses finally come out in full force. Honestly, I wanted to be surprised but I wasn't. When I think back on things from A Court Of Thorns And Roses you can see it all there and see how this was just lying in wait. My heart hurts for what he went through but he did unforgivable things in my opinion and Feyre made the right choice. He was stifling her and she needed to be free to be her own person and not someone's pet. And I just want to say; I don't see this as Tamlin being "ruined". This was all there and it didn't come out of nowhere. I was all Tamlin upon finishing A Court Of Thorns And Roses but as I looked back on the book and in the year between A Court Of Thorns And Roses and A Court Of Mist And Fury, somewhere along the line I realized he wasn't the one I reallllllly loved. I'm kinda like Feyre that way. And once I talked this through with my bookish BFF, I realized that I jumped ship a long time ago, at the end of A Court Of Thorns And Roses, and I didn't even notice it. Okay so now onto Rhys who owns my heart and soul and has given the one and only Rowan Whitethorn a run for his money. Holy hotness I am in love. There is so much to Rhys that we never knew and there is still so much more I want to know. I really don't know what to say because he turns my brain into a puddle. All I know is I ADORE him and Feyre together. I adore that they are equals in everything and that he never doubts her or tries to hold her back. He loves her and believes in her and recognizes she is her own person. And together… I pity anyone who tries to stand against them. I also LOVE the Court of Dreams. I think Mor is my favorite of them all. The second she showed up I just knew we would get along splendidly. But I also love Cassian and Amren and Azriel. They are such a great family and a great group of characters. This book just gave me everything I never knew I wanted and I couldn't have asked for more.
**end of spoilers**
Okay I need to stop rambling. As you can see, I absolutely loved A Court Of Mist And Fury and waiting for the next book is going to hurt my soul. No other books can capture my soul the way Sarah's can and this one was no exception. Can someone please take me to Prythian now?