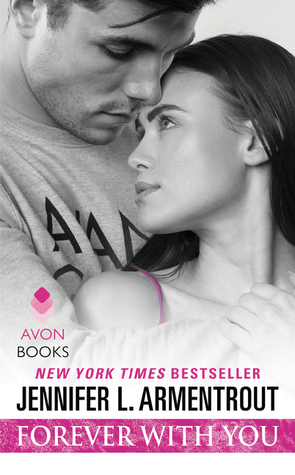 Release Date: September 29, 2015
Source: I received a copy of this book in exchange for a fair and honest review.
"In the irresistibly sexy series from #1 New York Times bestselling author Jennifer L. Armentrout, two free spirits find their lives changed by a one-night stand…





Some things you just believe in, even if you've never experienced them. For Stephanie, that list includes love. It's out there. Somewhere. Eventually. Meanwhile she's got her job at the mixed martial arts training center and hot flings with gorgeous, temporary guys like Nick. Then a secret brings them closer, opening Steph's eyes to a future she never knew she wanted—until tragedy rips it away.





Nick's self-assured surface shields a past no one needs to know about. His mind-blowing connection with Steph changes all that. As fast as he's knocking down the walls that have kept him commitment-free, she's building them up again, determined to keep the hurt—and Nick—out. But he can't walk away. Not when she's the only one who's ever made him wish for forever . . ."
My Thoughts:
Forever With You is another great addition to the Wait For You series. It was also pretty different from the other books in the series. JLA tackles two very tough topics in Forever With You and one of those was very close to my heart and I love how it was handled.
I have to start with Steph because she is a fantastic character and I loved her. She is strong and spunky and determined and smart. I love that she broke so many stereotypes. Wait, you mean a girl that enjoys sex and having fun can also have a kickass GPA and land a good job? What?!?! Who would have thought? (Please note the heavy dose of sarcasm there). But yeah. I love that Steph was such a strong female character and I also love that she was normal for lack of a better word. Steph is your typical college student for the most part and she is dealing with the normal things one deals with right after college. She isn't battling any demons from her past or anything like that and I really think that makes Forever With You stand out in the new adult genre.
And then there is Nick, who was of course very swoony. Nick wasn't like I was expecting at all. It's hard to explain why, but Nick really surprised me. He is just a great guy. He is also really funny and I enjoyed the banter between him and Steph. Those two were so sweet together and they worked so well. I love how they balanced each other.
Forever With You takes the series away from the suspense angle and gives a story that is much more character driven. I really enjoyed getting to know these characters. I also liked that it was different from a lot of other new adult books. The story isn't angst driven and the romance isn't overloaded with drama. The characters face tough issues and while the romance is very much a part of the story it's not the entire story.
I mentioned above that this story tackles two tough issues and I don't want to go into those issues because of spoilers. But for those of you who have read it, I just wanted to discuss what Nick is dealing with. Nick's situation hit really close to home with me as I have experience with something similar. It's not easy and it sucks and I admired him so much for everything he did. That whole story line made me heart ache. This book as a whole made my heart ache and it packed a punch.
Of course I loved seeing all of my favorite characters again. Seeing into their happily ever after's makes me so incredibly happy. I want to be a part of this group and I kinda feel like I am. I also love how the girls are such great friends. That is so important! I love when female friendships are portrayed positively. And then there was a wonderful Cam and Avery moment that made me ridiculously happy. Oh and of course I have to mention Katie because that girl is fabulous and I love her.
Forever With You was a great read and the more I think about it the more I love it. This is the kind of book that sits with you and you find yourself thinking about it randomly days and weeks later. Just don't miss this one please.
About The Author:
# 1 New York Times and # 1 International Bestselling author Jennifer lives in Martinsburg, West Virginia. All the rumors you've heard about her state aren't true. When she's not hard at work writing, she spends her time reading, watching really bad zombie movies, pretending to write, and hanging out with her husband and her Jack Russell Loki.
Her dreams of becoming an author started in algebra class, where she spent most of her time writing short stories….which explains her dismal grades in math. Jennifer writes young adult paranormal, science fiction, fantasy, and contemporary romance. She is published with Spencer Hill Press, Entangled Teen and Brazen, Disney/Hyperion and Harlequin Teen. Her book Obsidian has been optioned for a major motion picture and her Covenant Series has been optioned for TV. Her young adult romantic suspense novel DON'T LOOK BACK was a 2014 nominated Best in Young Adult Fiction by YALSA.
She also writes Adult and New Adult contemporary and paranormal romance under the name J. Lynn. She is published by Entangled Brazen and HarperCollins.
Website ** Facebook ** Twitter ** Novel Goodreads ** Author Goodreads