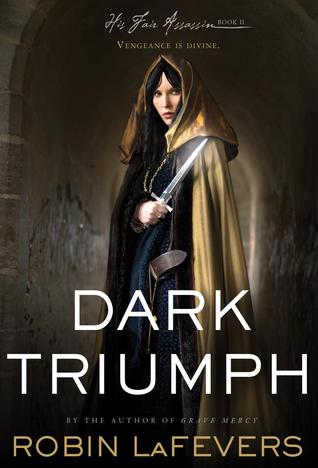 Release Date: April 2, 2013
from HMH Books For Young Readers


Goodreads

|

Amazon
"When Sybella arrived at the doorstep of St Mortain half mad with grief and despair the convent were only too happy to offer her refuge - but at a price. The sisters of this convent serve Death, and with Sybella naturally skilled in both the arts of death and seduction, she could become one of their most dangerous weapons.





But her assassin's skills are little comfort when the convent returns her to the life that nearly drove her mad. Her father's rage and brutality are terrifying, and her brother's love is equally monstrous. But when Sybella discovers an unexpected ally she discovers that a daughter of Death may find something other than vengeance to live for..."
My Thoughts:
This book was so incredibly good. I enjoyed Grave Mercy but there was just something about Dark Triumph that made me love it. I was addicted to this book from beginning to end. I loved the characters and the story and the world and just everything.
I adored Sybella. With Grave Mercy, it took me a bit to warm up to Ismae, but with Sybella I loved her immediately. I love her fierceness and her protective nature and how she was such a good person even if she didn't realize it. She lives a dark life, but that doesn't make her bad and I loved watching her slowly realize that. She is so strong and just a badass. I can't fully express how much I loved her.
I also adored Beast! I had already come to like him in Grave Mercy, but with this one I just truly adored him. He is a fantastic character! He is so good and strong and brave! He is determined and will fight to the death for what he believes in. Beast and Sybella together work so well. They complement one another and make one another stronger. They also don't hold each other back. Beast recognizes that Sybella is deadly and that she can handle herself. I really loved them together and I loved watching Sybella opening up bit by bit.
This world is so engaging and LaFevers does a great job of immersing the reader into the world. It is so easy to get lost in. The plot is also engaging and addictive. It is also really dark. My heart broke for Sybella and her past and everything she has endured. Her story is not an easy one to read and my heart broke but those struggles made the story more rewarding somehow.
It was nice to catch up with Ismae and Gavriel once again. Those two are a great power couple and I love it. I did not like seeing the Abbess again though because I hate her. I don't know what her deal is, but I dislike her. The Duchess I did like seeing again. I think she is such a strong young lady and she handles everything thrown at her so well.
And of course I need to mention the Beauty and the Beast aspect. It's not a retelling but there is a definite influence from Beauty and the Beast and I loved that so much! That is forever my favorite fairy tale and I loved seeing it interwoven to the story here.
All in all, Dark Triumph is a great read. Fantasy fans should not miss this series. It has everything you want; great romance, action, scheming, great world building, and great characters. I know I will be reading this one again.