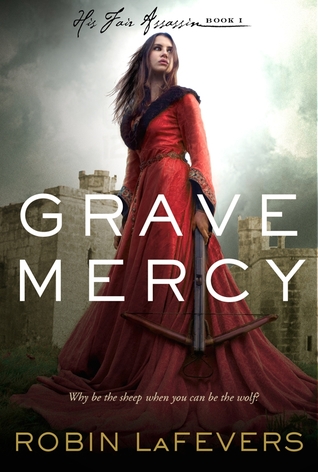 Release Date: Aoril 3, 2012
from HMH Books for Young Readers


Goodreads

|

Amazon
"Why be the sheep, when you can be the wolf?





Seventeen-year-old Ismae escapes from the brutality of an arranged marriage into the sanctuary of the convent of St. Mortain, where the sisters still serve the gods of old. Here she learns that the god of Death Himself has blessed her with dangerous gifts—and a violent destiny. If she chooses to stay at the convent, she will be trained as an assassin and serve as a handmaiden to Death. To claim her new life, she must destroy the lives of others.





Ismae's most important assignment takes her straight into the high court of Brittany—where she finds herself woefully under prepared—not only for the deadly games of intrigue and treason, but for the impossible choices she must make. For how can she deliver Death's vengeance upon a target who, against her will, has stolen her heart?"


My Thoughts:
This book has been on my TBR for years now and with my new love of audiobooks I finally got around to it and my gosh this book was so good. I also loved how different it was from a majority of books I've read. It was a nice change of pace.
Grave Mercy is the kind of read that builds slowly. It gets off to a slower pace and everything unfurls bit by bit. This holds true for the romance too. It is a very slow burn, but then as the story builds it combusts. It's intense and the love grows over time, which I think made it sweeter. And while the romance is growing there are plot turns left and right. All the political scheming made my head spin and I never knew who to trust. When you think the story is going one way, it ends up going in a completely different direction. I loved that it kept me on my toes and kept me questioning.
Ismae is a great character. She is multilayered and complex and realistic. She thinks she knows exactly what she wants in life, but once she gets out on her own she begins to question and finally become her own person. I loved watching her discover herself and I also loved watching her be a badass assassin. She is a great blend… she is awesome but still realistic and relatable. I wish she had learned to trust her gut quicker because her gut was usually right, but it was all part of her journey.
I also loved Gavriel for more reasons than I probably have time to mention. Most importantly I loved his devotion to his sisters. Nobody came before them and he was clearly willing to do anything for them and I admired that so much. He was smart and stubborn and strong. Simply a great character.
All in all, Grave Mercy was a very good read and I can't believe it took me this long to get to it. A great blend of historical and fantasy that is not to be missed.
Audiobook Comments: The narrator for Grave Mercy was very good. I felt like she read at a good pace and there was good distinction between the different characters. I would definitely listen to something she narrates again.