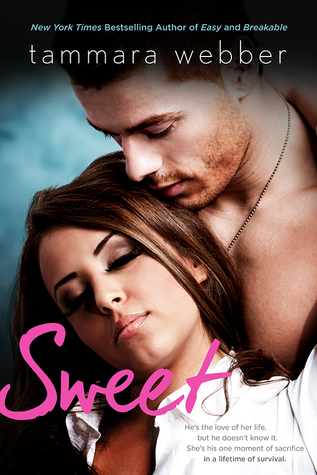 Release Date: April 27, 2015
Source: I received a copy of this book in exchange for a fair and honest review.
He's the love of her life, but he doesn't know it




She's his one moment of sacrifice in a lifetime of survival.





He was damaged and wild, but resilient.




She's always been obedient. Now she's restless.





Home for the summer between college and med school, Pearl Torres Frank knows two things: Boyce Wynn is the embodiment of everything she should run from, and everything she wants to run to. Rebellious and loud. Unconcerned with society's opinion of him. Passionate. Strong. Dangerous.





And one more trait he hides from everyone but her:




Sweet
My Thoughts:
This is one of the best books I have read in a very very long time. It's going to be very hard for me to put the amount of love I have for this book into words. I had extremely high expectations for this book, I mean Easy and Breakable are two of my all-time favorite reads in the history of forever, and Sweet not only met those expectations but it surpassed them by a mile.
First we have Pearl who I absolutely adored. I related to Pearl in many ways and I really got where she was coming from. I loved her determination and that once she made a decision she stuck to it, no matter the consequences. She may be quiet but she is tough and she is smart. Simply put she is a force to be reckoned with, just not everyone knows that.
The one person who does know that is Boyce. Boyce and Pearl have a connection that goes way back, except nobody really knows about that connection. Boyce has had a rough upbringing, and that is putting it lightly. But even with everything he endured, he still became a great man. He took what life gave him and instead of letting it hold him down he took what he had and made something out of it. Not everyone would have been able to do that and it really shows how special Boyce is. He is strong and good and so much more than you would have thought.
Boyce and Pearl together have so much chemistry and it simmers. The anticipation in this one is killer in the best way possible. Those two together are insane. But they are much more than their attraction to one another. First and foremost they are best friends. They know each other well and have been a part of each other's lives growing up. The two of them have been holding back for so long and it was so nice to see these two finally come together and explode.
What is even better about Sweet is that it is very much its own story. I'm sure when people saw this was a spinoff of Easy/Breakable they had their worries. Well let me assure you, Sweet is not just Easy and Breakable with new characters. Sweet is very much its own story and it's different and good and amazing and all the other words that can be used to describe something awesome. Sweet brought tears to my eyes on numerous occasions, for both happy and sad reasons. The story got under my skin and into my heart.
Sweet is an incredible read and it is going to be really hard to pick up another book after this one. This is the kind of book that stays with you and doesn't let you go. This is the kind of book that reminds me why I fell in love with new adult in the first place and it is a stand out read. Please do not miss this one.
About the Author:
New York Times and USA Today bestselling author of EASY and BREAKABLE (Contours of the Heart series - NA), as well BETWEEN THE LINES, WHERE YOU ARE, GOOD FOR YOU and HERE WITHOUT YOU (Between the Lines series - YA/NA).
I'm a hopeful romantic who adores novels with happy endings, because there are enough sad endings in real life. Before writing full-time, I was an undergraduate academic advisor, economics tutor, planetarium office manager, radiology call center rep, and the palest person to ever work at a tanning salon. I married my high school sweetheart, and I'm Mom to three adult kids and four very immature cats.
website:
tammarawebber.comFacebookTwitterinstagram.com/tammarawebber