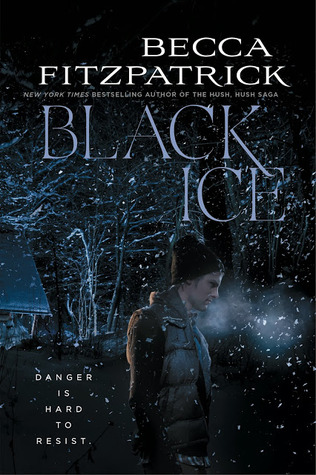 Release Date: October 7, 2014
from Simon & Schuster Books for Young Readers


Goodreads

|

Amazon
Source: I received a copy of this book from the publisher via edelweiss in exchange for a fair and honest review.
"Sometimes danger is hard to see... until it's too late.





Britt Pfeiffer has trained to backpack the Teton Range, but she isn't prepared when her ex-boyfriend, who still haunts her every thought, wants to join her. Before Britt can explore her feelings for Calvin, an unexpected blizzard forces her to seek shelter in a remote cabin, accepting the hospitality of its two very handsome occupants—but these men are fugitives, and they take her hostage.





In exchange for her life, Britt agrees to guide the men off the mountain. As they set off, Britt knows she must stay alive long enough for Calvin to find her. The task is made even more complicated when Britt finds chilling evidence of a series of murders that have taken place there... and in uncovering this, she may become the killer's next target.





But nothing is as it seems in the mountains, and everyone is keeping secrets, including Mason, one of her kidnappers. His kindness is confusing Britt. Is he an enemy? Or an ally?





BLACK ICE is New York Times bestselling author Becca Fitzpatrick's riveting romantic thriller set against the treacherous backdrop of the mountains of Wyoming. Falling in love should never be this dangerous…"
My Thoughts:
Black Ice is a book I have been looking forward to for a very very long time. I am a huge fan of Becca Fitzpatrick's Hush Hush series and couldn't wait to see what she delivered next. While I didn't love Black Ice as much as I did Hush Hush, it was still a really good read and I thoroughly enjoyed it from beginning to end.
Britt is our main character and I love her because she grows a lot over the course of the book. She starts off very dependent on others and a bit naïve. A lot of people have called her weak, but nobody who survives what Britt survived can be considered weak in my opinion. She may not be strong in the kick butt sense, but she is smart and a survivor. When she gets into the dangerous situation she does everything she can to try and think her way out of it. Also a lot of people have said she is too dependent on the men in her life, and yes she starts out that way but I think that is really a product of her age. She is young and has a Dad and an older brother who have always doted on and protected her; she never had to learn anything else. But the minute she needs to stand on her own two feet she does and I think that is what really counts.
Then there is Mason. Becca has a real knack for creating bad and dangerous boys, but creating them in a way that you can't really resist them. Clearly Mason is dangerous, but it is also clear that there is a lot more going on than meets the eye. He is intriguing and mysterious and you really cannot help but be drawn into him. Mason was a good character.
While Becca creates wonderful guys, she also has a knack for creating the worst best friends known to man. Holy moly I hated Korbie and I know it was intentional that I hate her. I recognize that. I just had to acknowledge how much I hated her. She was a horrible friend and just not really a good person. She really drove me insane. I enjoyed the book so much more once she was no longer part of the main storyline.
What I really liked about Black Ice is the constant danger throughout the entire story. The characters are not safe and not just because of a murderer but also because of the conditions. I'm not going to lie. I guessed the twist very very early on, I think it was around the 10% mark where I went "yepp, that's it" and then I got another big portion of the twist before the 50% mark. Honestly anyone who reads regularly will probably see it. Some of it is very "hey look at me, here is what you are supposed to think" and then some of it is supposed to be subtle but it's so subtle it practically screams "I am a clue". I don't know if that makes sense, but I hope it does. I also want to stress that while I did guess the twist it didn't ruin the story for me. I still enjoyed the ride. Yes I did peg the twists pretty early on, so when Britt jumped to the conclusion I was supposed to jump to (the wrong conclusion), I was frustrated. I wanted her to be smart. But then I thought about it realistically. If this were a real life situation, she came to the right conclusion, the only conclusion she could really come to based on the facts she had and she probably made the right decision based on those facts. When you are outside of it and reading the book you are looking for the twist, so if you have that knowledge and know it's not supposed to be what it clearly is, then it is easier to find. So really I can't fault Britt for her reaction even if I was internally screaming NOOOOOO.
All in all, Black Ice was a really good read and I thoroughly enjoyed the ride. It was thrilling and addictive and a definite page turner. Black Ice proved Becca Fitzpatrick is capable of more than just paranormal romance and I look forward to what she has in store for us next.