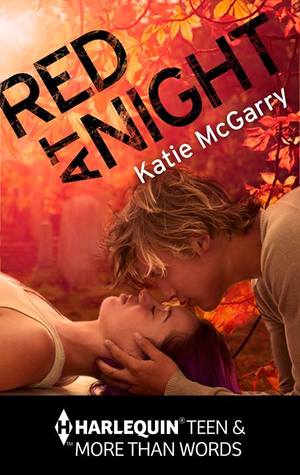 Release Date: April 1, 2014
from Harlequin Teen and More Than Words


Goodreads

|

Amazon
"In Red at Night, Stella and Jonah are total opposites. She's the girl with purple hair from the wrong part of town. He's a high school senior who hangs with the cool crowd. Until a car accident leaves him haunted by guilt, and Jonah starts spending time at Stella's favorite refuge…the local cemetery.





Stella knows she should keep her distance—after all, she spent her girlhood being bullied by Jonah's friends. Once he's sorted out his tangled emotions, Jonah won't have time for her anymore. Too bad she's already fallen for him."
My Thoughts:
This was such a sweet story and it made me cry. I tend to get emotional, but it's really difficult for a novella to make me cry, but these characters just got under my skin very quickly. Katie McGarry is just a genius.
Stella and Jonah are great characters. They are so different from one another, but at the same time they have some very important things in common. They connect in a way they never have with anyone else before. They come from very different crowds. Jonah's friends have been making fun of Stella for years, and while he never took part he also never said anything, which is just as bad. The fact that Stella reaches out to him despite this shows what a great person she is. Her life has been far from easy and the fact that she is still a great person is wonderful. Now back to the crying. There is a scene in this book where Stella and Jonah volunteer at an organization that provides shoes to children. That scene absolutely shattered me. It was very moving and very emotional.
Red At Night is a wonderful novella and one fans of Katie McGarry do not want to miss. It is a beautiful story and it is simply heartwarming.