So this is a new feature I wanted to start doing on my blog every now and then. I figure its a fun way to get to know other bloggers and maybe help some people find some new awesome blogs. For my first post, I interviewed Magen from Corrie the Book Crazed Girl. Magen is not only my first blogging friend but she is also one of my closest.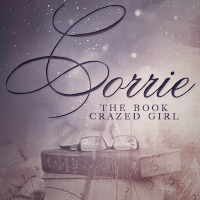 Hey Magen! Thanks so much for stopping by Readers Live A Thousand Lives today! As you are my very first bloggy friend I figure it only natural my first blogger interview be with you!
Well thank you for having me!! *blushes* I feel honored!
So I guess I should start by asking what made you fall in love with reading and what prompted you to start a book blog?
I've had a love for reading since I was a child, but it all started with my mom. She encouraged reading. And whenever I did well in school my reward was going book shopping! I even hoarded my lunch money to buy books. So, I guess you can say I was a book addict even at a young age.
The reason I got into book blogging is because I just wanted to connect with others who also shared my love for all things book related. When I found the book blogging community, I was at first too nervous to start my own blog (thinking if I wrote my own reviews, they would suck), so I just followed the community. But I realized I wanted my own blog, I wanted to write about books, talk about books, freak out over books, so I put the fear away and finally started my blog. And I'm so glad I did! I love it and I wouldn't have meant such great people or found such awesome books!!
What is your favorite part of blogging?
Finding new books and amazing authors! But I think the best thing is the other book bloggers I have meet. I can be my 100% crazy, book loving self and have others understand me, like you!! (And even join in with the craziness)
*yes yes, we understand crazy here*
Okay favorite book? Or favorite book at the moment? And feel free to list as many as you want.
If I listed all of them, we'd be here all day! HA HA

Origin and Apollyon (so ready for Sentinel) by Jennifer L. Armentrout (I love all those books, in both series).
The Demon King by Cinda Williams Chima,
Anna Dressed in Blood by Kendare Blake.
Strength by Carrie Butler, Losing Hope by Colleen Hoover, actually I love everything by Colleen Hoover!
Oh, Crush by Nicole Williams!
With All My Soul by Rachel Vincent (This one will always be a fav)

*flails about*

I just want to start naming every book on my book shelf… I LOVE THEM ALL! HAHA *smuggles with books*
*gahh such an awesome answer, I concur*
What is one book you absolutely love but never would have read if it weren't for blogging?
There are a few books I have read that I ended up enjoying, even loving, that I thought I wouldn't. One major book was the Fifty Shades series (you actually encouraged me to read it!!) And I ended up actually liking it!
*sigh, Christian Grey*
I know for me, that I tend to pour my heart into some of my reviews/posts. Is there a certain post on your blog that you would consider your favorite or are particularly attached to?
I do love my Quote of the Week posts. I adore quotes, and when I'm reading I always try to write down my favorites, or when I stumble upon some on the internet. I love sharing them! I also try to find some that can mean a lot to other book bloggers out there!
*yes, I do love your quote posts, and you always find the best pictures to go with them*
Okay these next questions are not your typical interview questions, but since our brains work the same I figured you would go with it. Favorite thing about Daemon Black?
EVERYTHING!! That's a good answer, right?? *giggles*
Jude Ryder or Jesse Walker?
I HAVE TO CHOOSE!!!??!!! I CAN'T DO THAT!!!!! *smuggles them both* *whispers to them, "It's okay," *pats them* "I love you both." * ;) By the way, in this fantasy world, they are both shirtless *wiggles eyebrows*

*joins you in this fantasy world*
If you had to pick a world from a book to live in, which bookish world would it be?
Mmmm.. Well it would be awesome to live in either the Lux world or the Covenant world, Gods and Aliens sound cool. But with my luck I would die, like, right away get blown up or something. But living in the world created by Wendy Higgins would be awesome or having powers like in Strength would be sweet (though I would probably get a very lame power like sharp nails).. Damn, this is hard!
I think the coolest world would be Anna Dressed in Blood! I would be an awesome ghost hunter, like Cas, and my life would be amazing (though I probably would get cursed and die)
You are stuck on a deserted island and can only eat one type of food for the rest of your life, what do you want it to be?
Is coffee considered a food?? 'Cause I would love to have a nice iced mocha on a deserted island ;) Or cake, ya know, for its nutritional value!

*as the question asker, I decree you can have both cake and coffee since coffee is a liquid*
The zombie apocalypse happens: what is the first book you grab to bring with you?
Zombie Apocalypse Survival Guide!!! HAHAHA (who am I kidding, I'd get eaten right way)
But I would grab a JLA book for pleasure, 'cause, you know, you need a pleasure read during the zombie apocalypse..( My JLA obsession is sooo showing through in this post)
During the zombie apocalypse are you a Rick or a Daryl?
DARYL all the way!! *grabs bow and arrows *